A Treat for Lovers – Dark Chocolate With Black Pepper and Rose Blossom Leaves
This one is for all the hopeless romantics out there! Today we're going to talk about chocolate full of passion and tenderness. It will warm up the coldest of hearts!
I bet you're thinking to yourself "Rose and pepper? In my chocolate?!" While it can seem a little bit unusual, I can assure you it will sway you away with the tango of flavors in your mouth. 
And you know what's even better? Just like all Ach Chocolates, this bar of wonders is not only delicious but amazing for your body.
How so? Let's find out!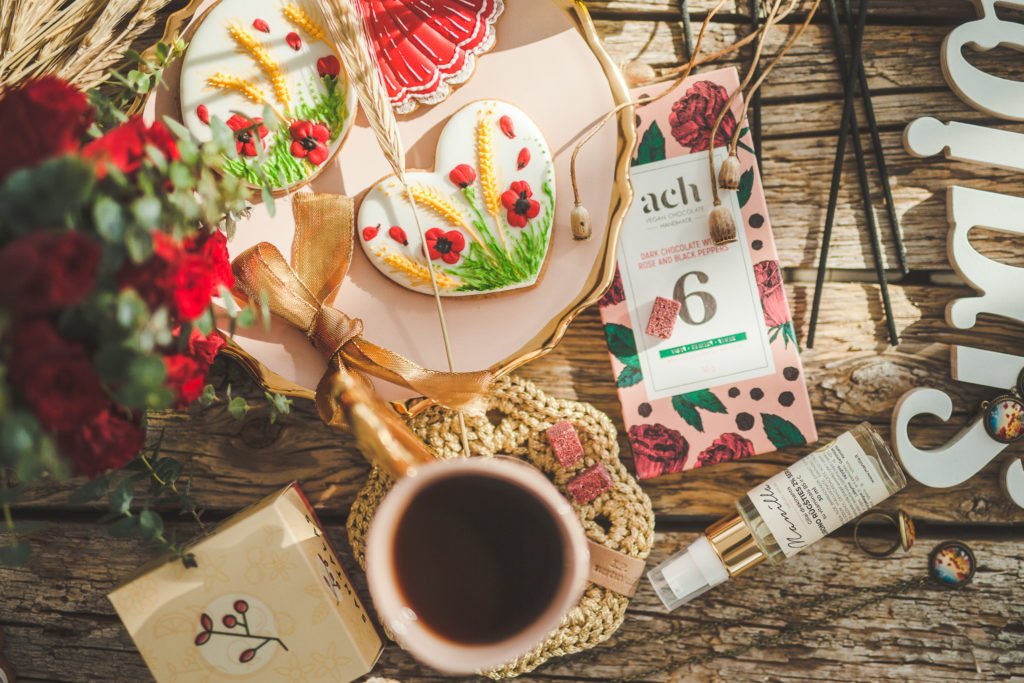 Black Pepper – One Spice to Rule It All
Black pepper is one of the most popular spices across the world. I bet you have it in your pantry right now! But did you know it has plenty of health benefits? 
While let me be clear – no spice in your pantry is a "superfood" who will cure you of all diseases. With that in mind, black peppers have proven benefits, that can increase your overall well being. Let's explore how.
1. Great for the brain
While this one has not been proven with humans yet, studies with animals have shown promising results in black pepper and brain function correlation. 
A study with rats found that black pepper highly improved memory and efficiency. The animals were able to solve tasks faster – solving various mazes with better speed and remembering the route later on.
What is more, there were benefits with symptoms related to such conditions as Parkinson's and Alzheimer's. 
2. Might fight cancer!
Some studies hypothesize that piperine – the active element of black pepper – might have some properties to fight cancer. I know this sounds like a big statement, but bear with me!
There were tube tests done, that showed a major decrease in cancer cells and an increase in its death.
While human studies are yet to be conducted, this looks promising to say the least.
3. Boosts nutrient absorption
This spice might actually benefit you in helping you to absorb a number of essential nutrients better. Next time you reach for those supplements, consider increasing your black pepper intake and snacking on something rich in selenium and calcium.
What is more, while helping you with your nutrients, black pepper also benefits the health of your gut and the production of good bacteria. 
4. Antioxidants for days!
Black pepper is rich in piperine, which is an element proven to have high antioxidant properties. This is extremely important, as antioxidants help you get rid of excessive free radicals in your body.
What is more, it has anti-inflammatory properties. Piperine can effectively help you to avoid many conditions caused by chronic inflammation. This includes diabetes, heart disease, and most importantly – cancer.

Just imagine what dark chocolate with pepper can do together, as cocoa is also extremely rich in various antioxidants.
Roses Can Do More Than Brighten The Room
While roses are a widely beloved flower and a great token of love and appreciation, you should not overlook it's health benefits! While I have to admit, that roses aren't as impressive as, say, mint or black pepper, there are some notable benefits.
By the way, did you know that using roses in food is quite popular in a number of cultures? There must be a good reason for that, don't you think? 
1. Not just pretty – nutritious too!
While fresh rose blossoms, or petals, are not that rich nutrients due to the low caloric value, rose oil is a lot more beneficial in this area. It is full of vitamin C. 
Vitamin C is a strong antioxidant, that can help your body fight against free radicals in your body, inflammation, strengthen your immune system, and much more.
2. Can help to relieve stress
While it's obvious how a bouquet of roses can bring a smile to anyone's face, some studies suggest rose oil has properties to help stress and anxiety. And these days, it's a highly relevant topic! 
A study in 2009 showed that people who used rose oil on their skin showed higher levels of calmness and relaxation. 
What is more, a more recent study done in 2016, showed that people who used rose oil had noticeably lowered anxiety levels.
Putting It All Together
While rose petals, black pepper, and dark chocolate might not be the most common combination, I can assure you – it is so delicious, you'll fall in love with the world all over again.
The bitterness of black pepper pairs amazingly with dark chocolate, while the aroma of roses ties everything together with a red, satin bow. 
With all Ach Vegan Dark Chocolate products, you won't have to worry about unhealthy, harmful products. All the desserts are made with your well being in mind. All natural, all healthy.
If you want to try more gourmet chocolates – check out our store.